Some detours may not be detours, perhaps they're actually the path – Katherine Wolf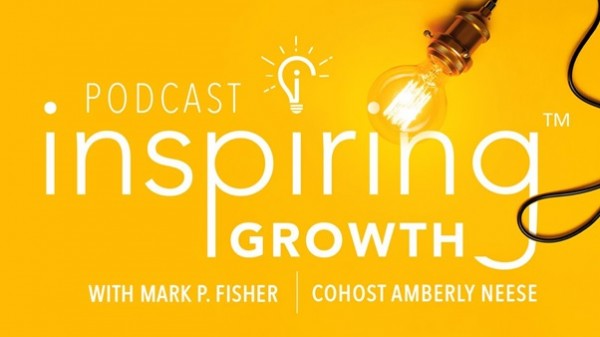 Listeners in 48 US states and 42 countries have discovered how to grow and achieve greater heights with the motivational podcast "Inspiring Growth with Mark P. Fisher"
"Most leaders desire to increase revenues, leadership confidence, and overall joy." observes leadership veteran Mark P. Fisher. "But each leader needs a curious, seasoned guide to come alongside their journey of growth and discovery."
Mark P. Fisher, Chief Encourager with Inspiring Growth paves that journey with the Inspiring Growth Podcast. Being a bruised and battered CEO with a 29-year track record of organizational turnarounds, brand innovation, exceeding revenue targets while delivering 99% customer satisfaction, Mark P. Fisher understands the requirements to inspire great leaders.
BRUISED AND BATTERED?
It was after a medical procedure gone wrong in 2013 that left Mark temporarily paralyzed from the waist down (episode #17) he lost his CEO job and Inspiring Growth was born.
Mark P. Fisher and his team are on a mission to inspire growth with great leaders and their brands. Leaders have said, "Mark has the skill of drawing people into the future by the stories he tells and the vision that he casts."
If you want to hear inspiring stories of economic struggle that led to growth with new companies or careers then tune in to the "Inspiring Growth Podcast with Mark P. Fisher".
Now in its 3rd season, check out any of the 27 episodes where Mark P. Fisher showcases stories of struggle that have led to growth in revenues, leadership, and overall joy. These captivating stories are told by serial entrepreneurs, NY Times best-selling authors, movie producers, magicians, non-profit leaders, and ordinary folks with extraordinary experiences to share.
"Mark is like the person in a lighthouse."
He sees the bigger picture of leadership while inspiring both personal and organizational growth. For us a 61% increase in revenues." says Greg Mengarelli, President UCYC, Mayor Prescott, AZ.
The motive behind this podcast is to inspire hesitant and seasoned entrepreneurs to start and grow great companies. It also aims at inspiring ordinary people, rocked by Covid-19 to see needs and meet them. Mark and his team looks forward to changing the world for the better, one budding entrepreneur at a time.
"I long to inspire growth with great leaders and encourage them to keep going even when it gets hard", says Mark P. Fisher. And Mark knows struggle. (Episodes #3 & #17)
"When we realize some detours may not be detours, but possibly the actual path folks come alive with curiosity and energy," says Mark.
5-Star Rating on iTunes
The podcast "Inspiring Growth with Mark P. Fisher" will keep you intrigued throughout the episode with its eclectic vibe of story-telling and curiosity.
"This podcast does a wonderful job sharing how Mark P. Fisher challenges your outlook on leadership and growth through real-life stories. Give it a listen if you want to grow!" – iTunes Review (Jonathan6217)
Listen to "Inspiring Growth with Mark P. Fisher" and co-host, comedian, and author Amberly Neese on various streaming platforms through this LINK.
Media Contact
Company Name: Inspiring Growth
Contact Person: Mark P. Fisher
Email: Send Email
Phone: 443-907-2828
Country: United States
Website: www.InspiringGrowth.biz